Mont Miller is a 100% natural snow ski resort. It offers a 280-meter vertical drop with 32 trails and undergrowth. The mountain is served by a T-bar lift. The resort also mechanically maintains a few trails following major snow falls. Mont Miller is the ideal place to experiment and improve your powder skiing! In November 2016, Chic-Chac celebrated its 10th anniversary by acquiring Mont Miller!
–> SKI CONDITIONS <–
50+ YEARS OF OPERATION FOR THE MILLER T-BAR
This is one of the oldest T-bars in Quebec. Come celebrate this historic lift and ski in exceptional snow conditions!
MILLER MOUNTAIN INFORMATION
858 m top elevation
280 m of elevation difference
32 tracks and undergrowth runs
7 m of annual average snowfall
1 chalet
ONLINE TICKETS
Direction
606 route 198, Murdochville
We are right at the intersection of the main entrance to Murdochville, in from of the Shell gas station
The ticket counter is at the bar on the second floor of the ski lodge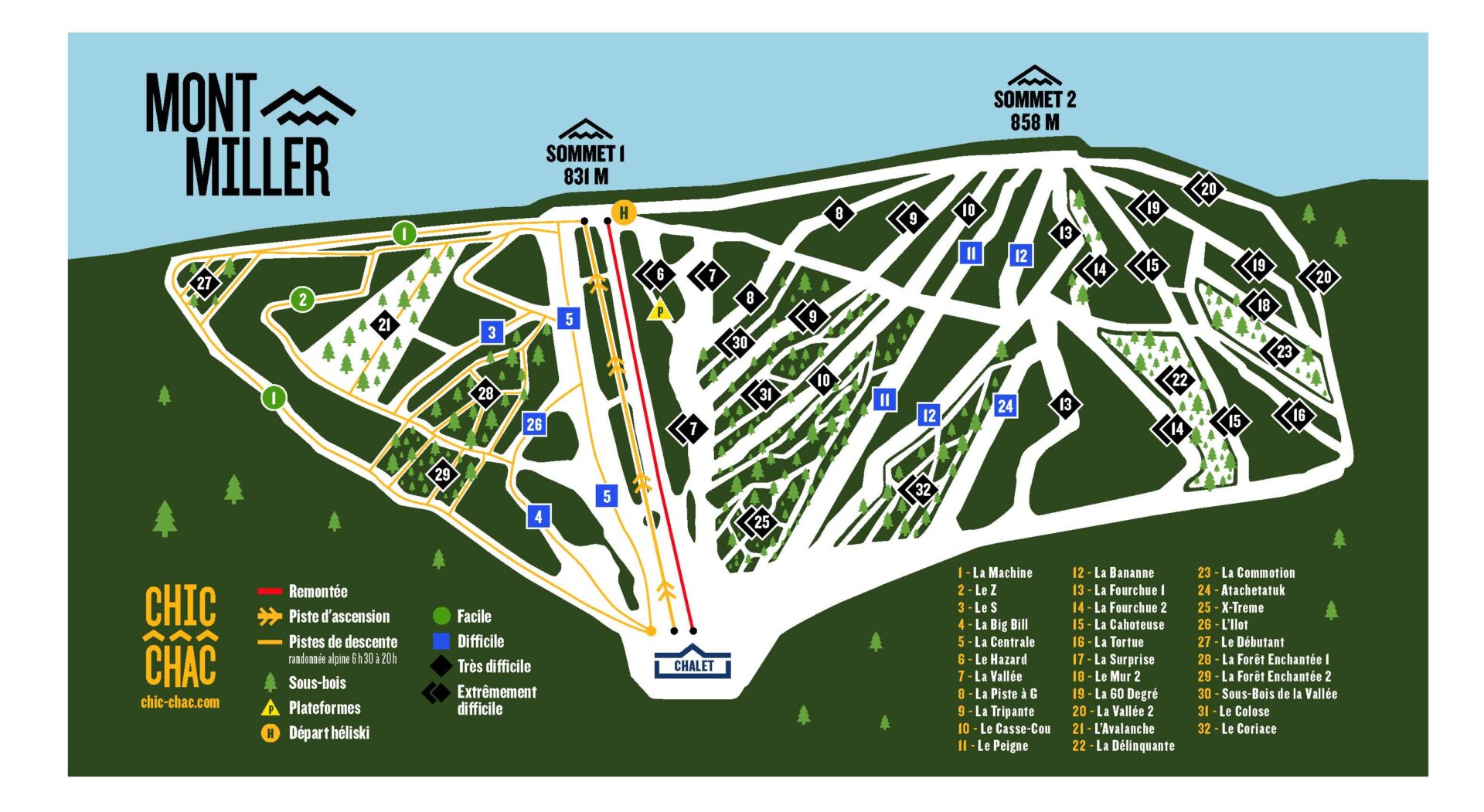 About us
The Mont Miller Ski Resort is located in Murdochville, a small town nestled at an altitude of 650 metres in the heart of the Gaspé Peninsula mountains. Surrounded by several mountain ranges, it is the ideal place to come and enjoy bountiful quality powder snow that you will rarely see elsewhere in Quebec! The region had a major snowfall of 120 cm on February 16, 2017, holding the record for Quebec's largest 24h-snowfall since. This little-known skiing jewel is located directly at the entrance of the city, allowing residents and visitors to walk directly to the resort.
Established in 1964, the Mont Miller Ski Resort now has a total of 32 trails of various difficulty levels, including 11 glades. The trails are covered with 100% natural snow which appeals to both amateurs and big powder enthusiasts. Some trails are groomed, however the majority remain untouched by any mechanical process. The mountain's average vertical drop is 270 meters. Mont Miller's first summit is at 831 meters and the second summit at 858 meters. The double T-bar lift brings you to the first summit and it is the oldest double lift in Quebec. The second summit can be reached by climbing with skins or by foot. Occasionally, especially following a heavy snowfall, a Cat-ski allows you to commute between the two summits of Mont Miller.
The Mont Miller Ski Resort is open exclusively on weekends, during the holiday season and for the Quebec school break. It may also occasionally open following large snowfalls. It is also possible to take advantage of the slopes of Mont Miller outside of the mountain's regular opening hours by climbing on skins. The ski resort offers several services, including bar and restaurant service, a rental service for various outdoor equipment, as well as lodging in tourist residences or private homes. You can also combine skiing at Mont Miller with off-trail ski guiding services, including alpine touring, Cat-skiing or heli-skiing. The Chic-Chac family and its dedicated staff will offer you a memorable ski trip with a wide range of services for an unforgettable experience!