The Chic-Chac Lodge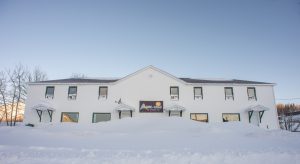 609 7th Street
Treat yourself to a ski trip in a friendly atmosphere at the mythical Chic-Chac Inn, a countrified chalet with a dozen private rooms for 2 to 4 people. Whether you are with family or friends, its rustic and heartwarming atmosphere will charm you.
4 x units of 2 or 3 rooms
One bathroom per unit
Wireless High Speed Internet
2 x communal kitchens (all equipped)
A very large dining room
Living room with television
Drapery included
*Shower towels, soap and shampoo not included.