The Presbytery
540 Dr. William May Avenue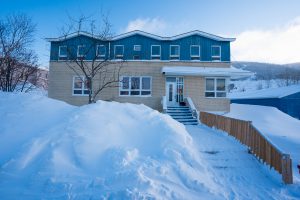 Spend a vacation in the comfort of the city's old presbytery. A dozen private rooms offer a warm and cozy place to unwind while you gaze at the breathtaking view of Mount Miller.
3 x rooms with 1 double bed
6 x rooms with 2 double beds
Wireless High-Speed Internet
A bathroom with shower for every 3 bedrooms
Common kitchen (fully equipped)
Living room with television
Wood fireplace
Pool table
Laundry room
Drapery included
*Shower towels, soap and shampoo not included.